Note: We are suspending Arch and Chair set up for 2021. Please check back with us for 2022. Mahalo!
Our Kahala Deluxe Wedding features a Wedding at the scenic Waialae Beach, with Bamboo Arch and twenty chairs for your guests. This Wedding package is perfect for Wedding parties with up to 29 guests, and is filled with quality services at a reasonable price!
Kahala Deluxe Wedding
Bamboo Arch & 20 Chairs
Wedding Minister
Live Musician
Bride's Flower Bouquet
Photographer
100+ images
Wedding Video
Framed Wedding Certificate
Mon-Fri: $1995.00
Sat-Sun: $2095.00

Our Wedding Minister, Musician, Photographer and Videographer will be waiting there for your arrival at Waialae Beach Park.




We set up a Bamboo Arch and 20 chairs at Waialae Beach Park so your wedding guests may be seated. If you have a few extra guests they may stand in the back so our Photographer and Video have a nice view of the Bride & Groom.
FLOWERS

See our Flowers at: www.hawaiiweddingflowers.net


TRANSPORTATION
You may wish to order transportation for you and your guests. We recommend the 14-passenger Limousine. (Two jumbo limousines are available.)
- Dodge Charger (up to 4 passengers) - $99.00
- 8-passenger Limousine - $199.00
- 14-passenger Limousine - $340.00
We usually reserve Limousine service for two hours. This is plenty of time for a one-hour wedding, but you may wish to add 30 minutes for $75, or one hour for $150.
If your wedding is delayed and goes overtime, in the event that the Limousine schedule does not permit extra time, please contact a taxi for your return to the hotel. Call CHARLEY'S TAXI at 808-233-3333.
DECORATIONS:
Bamboo Arch is decorated with white cloth. Beautiful chiavari chairs do not need decorating, though flowers may be added upon request.
Fresh flower decorations start at $599.00.
Wedding Cake & Sparkling Cider may be added as well.
- Coconut Haupia Cake - $99
- Strawberry Cake - $129
- Vanilla/Buttercreme Cake - $179
- Sparkling Apple Cider - $20 per bottle
Here are a few optional Wedding services you may wish to include in your Wedding package.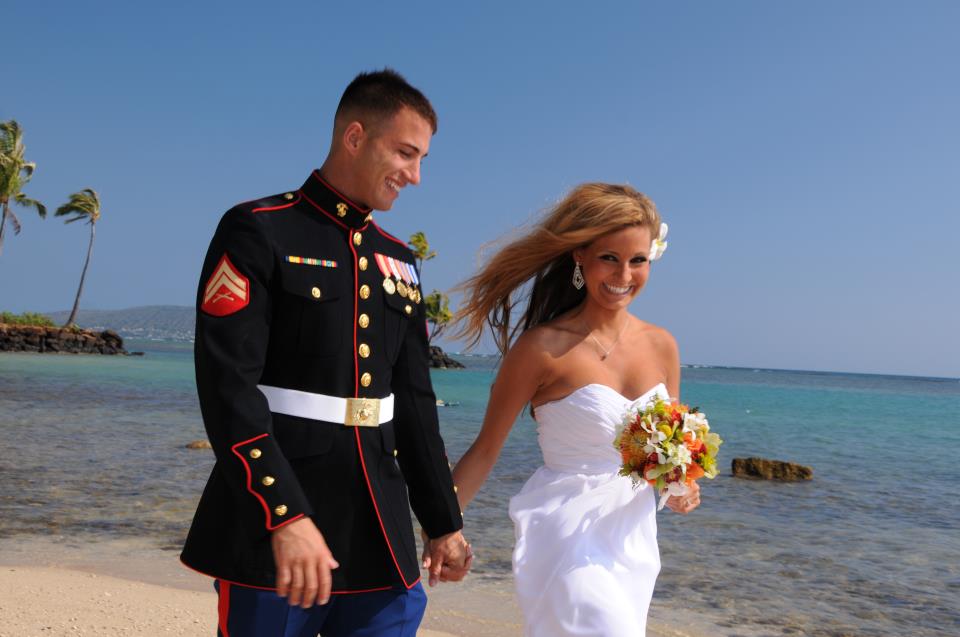 - Hair Styling & Makeup
- Dress & Tuxedo
- Flower Shower
- Cake & Sparkling Cider
- Dove Release
- Sunset Dinner Cruise
- Paradise Cove Luau

PUBLIC BEACH LOCATION
*Please note that any weddings held on public beach locations may have to be moved on short notice as we do not have control over crowds or other activities in the vicinity.
*Waialae Beach Park has been crowded lately with competing wedding companies. We recommend considering another beautiful location more secluded.


KAHALA RESORT HOTEL
This wedding location is walking distance from the KAHALA RESORT, a favorite hotel of movie stars & Presidents (and some resident dolphins).


TESTIMONIAL
We just got home from work and watched the Wedding Video! It's absolutely perfect, thank you so much!!
Our wedding was just everything we could have dreamed of, thank you for making it happen.
Jessica & Nick


More Wedding sites for weddings with 20 or more guests:
PARADISE COVE ............... WAIMANALO BEACH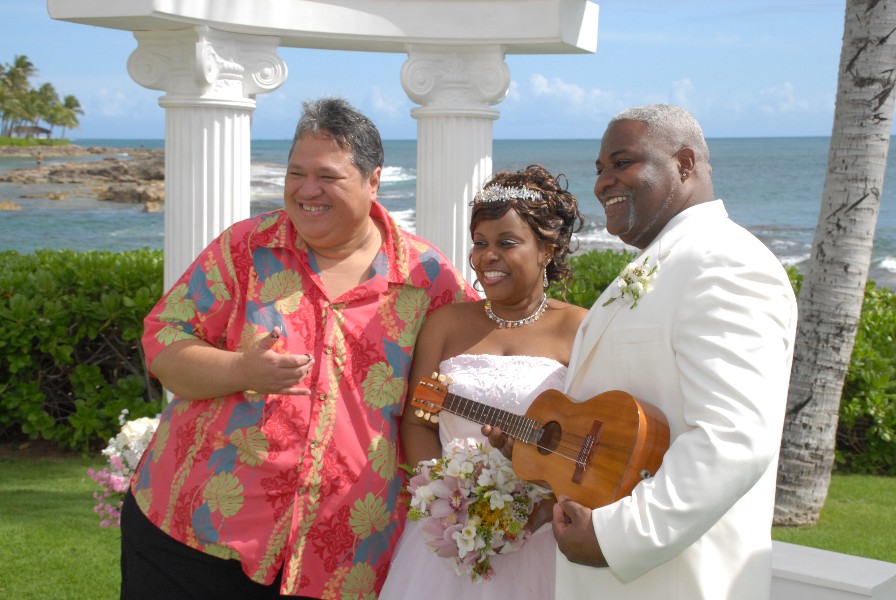 To reserve this Wedding package please fill out our simple WEDDING RESERVATION form, or contact us by email if you have questions about our services.

Bridal Dream Hawaii
Weddings in Honolulu
Office: (808) 924-3600
Cell: (808) 772-1140
bridaldreamhawaii@gmail.com

Please send mail correspondence to:
P.O. Box 23311, Honolulu, HI 96823