Foreign Weddings in Honolulu, Hawaii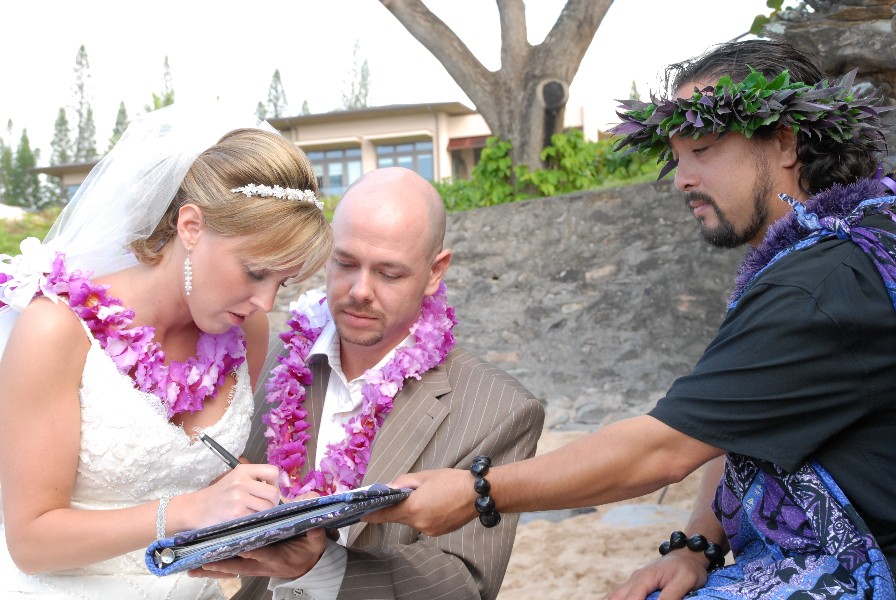 The Hawaii Dept. of Health issues Marriage Licenses to persons of any nationality regardless of what type of visa you have. Your Passports will be sufficient indentification.
To get married in Hawaii, a Marriage License must be received from the Department of Health before the Wedding. No blood tests (or divorce records) are required, only valid photo ID's and $60 cash.*
*Important: If you are under 19 years old, please bring your Birth Certificate and a Photo ID as proof of legal age to marry. If you have been divorced less than two months, please bring your Divorce decree.
Single persons 18 years of age and above may marry without parental consent. Wedding packages do not include a Marriage License, which can only be obtained by the Bride & Groom by appearing in person together to apply.
No assistance is necessary to get a Marriage License, just a simple one-page Application form (which only the Bride & Groom know the answers).
Nearly every nation recognizes Marriages performed in other countries. Some countries may require that the MARRIAGE CERTIFICATE have an official APOSTILLE STAMP in order to be recognized. Please check with your local authorities on how you are to register your overseas marriage (performed in the USA) upon your return to your country.
A few countries known to require an Apostille Stamp are:
Austria
Italy
China (including Hong Kong)
Bridal Dream Hawaii can assist with the Apostille Application. Please add $40 to your wedding package for this assistance, which includes two Money Orders for the Application.
BRITISH CITIZENS MARRYING OVERSEAS
Overseas marriages are legal in the UK, provided they comply with the marriage laws of the country you have got married in.
AUSTRALIANS GETTING MARRIED OVERSEAS
Marriages entered into overseas are generally recognised as valid in Australia
* if the marriage was recognised as valid under the law of the country in which it was entered into, at the time when it was entered into, and
* providing the marriage would have been recognised as being legal under Australian law if the marriage had taken place in Australia.
There is no requirement to register a marriage in Australia which takes place overseas. The foreign marriage certificate is prima facie evidence in Australia of the occurrence and validity of the marriage.
Escorted transportation from Waikiki to the Honolulu Department of Health is available from Bridal Dream Wedding Company for $49.00 upon request.
If you need a Wedding Minister, visit:
HAWAII WEDDING MINISTERS

Other helpful links for your vacation in Hawaii.
- HONOLULU AIRPORT TRANSPORTATION
- SIGHTSEEING IN HAWAII
- HAWAII WEDDING PACKAGES
---

Bridal Dream Wedding Company
Honolulu, HI 96815
Office: (808)924-3600
Cell: (808)772-1140
Fax: (808)356-0806
email@bridaldreamhawaii.com