Hawaii Wedding Photos & Video
by Bridal Dream Hawaii
Photographer: ROBERT
Location: North Shore Oahu
Need a Photographer on your Special Day in Hawaii? We shoot Wedding Photos all across Oahu, Maui, and Kauai. See our Photo Albums (photography included) or Wedding Videos featured below.
Call Robert Hamilton at 808-924-3600 (or 772-1140) to inquire about your Photo event.
Photographer



Wedding Photography for Weddings in Honolulu, Hawaii.
(inquire about other areas)

PHOTOGRAPHER RATES
Half Hour - 70-90 images: $199.00
One Hour - 150 images: $299.00
Extra Hours - $199 per hour
*Travel fees apply to areas outside Honolulu (Kailua, Waimanalo, Ko Olina or North Shore).
PHOTO GALLERY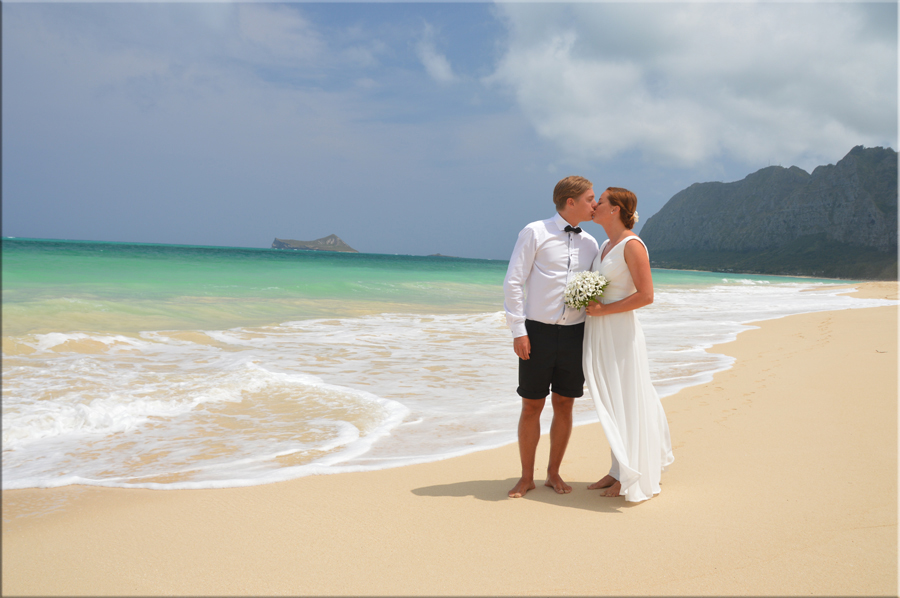 Honeymoon Photos
Smaller photography orders (40+ images) are available for $179.00 for honeymoons and anniversary celebrations without a Wedding ceremony.
Wedding Video


Bring your Hawaiian Wedding back to those who cannot come. A professionally produced Video of your Wedding in Hawaii for $399.00.

*For custom music, add $40.00 and provide a music CD with the songs you wish to have on your Video.
**Travel fees are added for areas outside Honolulu. $50.00 for Waimanalo, Kailua or Ko Olina, or $100.00 for North Shore locations.
DVD Photo Slideshow
Let us put your Digital Photos into a Slide Show with romantic background music to watch on your TV on your Anniversaries. Only $100.00! *Slideshow includes 50 images. (For each additional 50 images please add $50.00.)
TESTIMONIALS

Thank you so much! Everything was perfect! Pastor Luna was awesome! Robert and Scott were also amazing.
I would certainly recommend your services to everyone.
Sofie & Demetrius

PHOTOGRAPHY DETAILS
There will be a $75 travel fee for Windward Oahu (Waimanalo, Kailua, or Lanikai). Add $100.00 for Ko Olina, North Shore or Makaha Weddings per cameraman.
Please add $50.00 for custom music on your Wedding Video or Photo Slideshow and provide us with a CD of the music you request.
Your photos are delivered online at Dropbox. CD is available upon request for $10 shipping & handling (USA only).
Albums, Videos & Slideshows usually take 2 Weeks.
Let us know if you wish to have your photos mailed, delivered to your hotel, or if you will be picking them up.
If you prefer you may pick up your photos at our Office at:
1350 Kinau St. #8, Honolulu, Hawaii 95814.
Shipping of Video or Slideshow DVD is free to the U.S.A., $10 to CANADA, or $20 International.
For mailing of Albums or Framed Certificates, please add $20 per item for USA, $25 for CANADA.
Framed Certificates can not be mailed overseas as the glass will likely break.
Internet delivery of your photos and digital format souvenir certificate is available on request at no extra charge. Printed Certificates can only be mailed to USA, Canada, or Australia.
Express 2-Day delivery to hotel is $20.00.
*Rush service should be ordered in advance by email with our confirmation reply. In case we are unable to complete your order in the time promised you may request a refund of the rush service fee.
We are not able to guarantee that your Wedding Photos or Video will be ready by your Reception Dinner date, though we will make an effort to do so if you let us know in advance what date you need your photos by.
All prices on this page are good for Honolulu. Please inquire for Maui & Kauai Photography rates.
For more information about Wedding Photography & Video in Honolulu, contact us anytime with your questions or to request a quote.



Bridal Dream Hawaii
Weddings in Honolulu
Office: (808) 924-3600
Cell: (808) 772-1140
bridaldreamhawaii@gmail.com

Please send mail correspondence to:
P.O. Box 23311, Honolulu, Hawaii 96823