Sunday is our Makaha Day!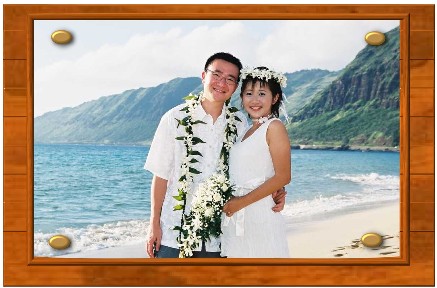 If you're going to Makaha on the island of Oahu, let Bridal Dream Hawaii set up your Wedding for you. I know of no other Wedding Company that has weddings at this hidden location. See our simple Makaha Wedding Package below:
MAKAHA WEDDING PACKAGE
Wedding Minister
Orchid Bouquet
Photographer
100 Wedding Photos
Sparkling Cider
Maile Lei & Flower Lei
Framed Wedding Certificate
Mon-Fri$999.00
Sat-Sun$1099.00
Our Travel fees have been added to this package because of the distance from Waikiki (about 3 hours roundtrip).
Haku Lei (Bride's Flower Headpiece) is available for $70.00.
Makaha is an hour and a half drive from Waikiki, almost to the end of the road on the West Shore near Kaena Point. For a Sunset Wedding, leave Waikiki 3 hours before sunset.
On the way back to Waikiki, you may want to enjoy a Luau at Paradise Cove at the half-way point in Kapolei. Luau Tickets are $80.00 per person, and may be added on to your Wedding Package.
See: LUAU TICKETS
MAKAHA DIRECTIONS
We can drive in tandem to Makaha, but please keep the directions in case you can't keep up with my driving.:-)
Take H-1 Freeway in the middle lane all the way to Waianae. (Be careful not to take the left lane exit to Pearlridge.) When you see the H-2 turnoff to North Shore, stay on the left side to WAIANAE. Drive past the Makaha town until you see a Military type Guard Tower about 3 stories high a couple miles past the town. You cannot see the Beach from the road, but there is a Driveway leading to the Beach on the left.
TESTIMONIALS
"Just wanted to express our deepest gratitude for the wonderful wedding package you provided for our wedding day. It was truly amazing, and you really did make my bridal dream come true. Everyone was so nice and gracious, and so professional from beginning to end. Again, thank you so much."
Marilyn and Lloyd
Also see:
PAPAONEONE BEACH
See Wedding Packages at these beaches:
Waialae Beach - Magic Island - Waikiki
Waimanalo - Kailua - Lanikai - Makaha
Ko Olina - North Shore - Makapuu - Kawaikui
To reserve your Wedding at Waialae Beach Park, please visit:
WEDDING RESERVATIONS

Bridal Dream Wedding Company
Office: (808) 924-3600
Cell: (808) 772-1140
bridaldreamhawaii@gmail.com

Please send mail correspondence to:
P.O. Box 23311, Honolulu, HI 96823