Ministers at Bridal Dream Hawaii
Rev. Robert
Rev. Robert recently returned to Hawaii from being overseas in Japan where he has years of experience as a Wedding Minister.
Rev. Miles
Rev. Miles performs weddings for us mostly at St. Clements Church, and beach weddings at Ko Olina and other locations around Oahu as well.
Officiant Keawe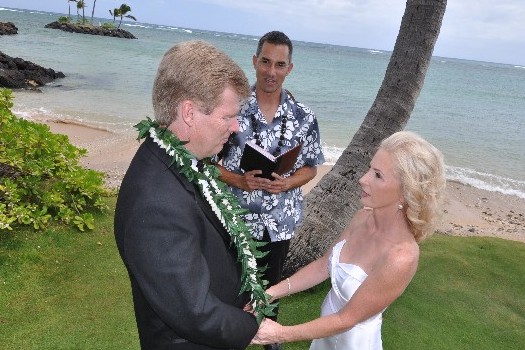 Our Officiant Keawe lives in Waikiki and can be available for your Ceremony on short notice. He also rides his motorcycle to any place on the island we ask him to for a Wedding in your favorite location.
Rev. Carl
Minister Carl Frazier is a family man with several children whose names all start with "A". Fun-loving Wedding Minister. Fluent in Japanese. Pretty good at English, too. Active Church worker at HOPE CHAPEL KANEOHE.

Rev. Myles
Minister Myles Nakasone is one of the Pastors of BRIDGE OF HOPE, a Bilingual Japanese/English Christian Fellowship (Foursquare Gospel).

Officiant KERMIT

Kermit performs a non-denominational wedding ceremony upon request.
See a sample video of his wedding ceremony below:

Rev. Scott
Minister Scott Nelson was our main Wedding Minister in our early years and now resides in Colorado. We wish him the best!
Rev. Greg
Minister Greg Garner performs Weddings for us on the North Shore, Ko Olina, and Makaha. He is one of the Ministers at BRIDGE OF HOPE, a Bilingual Japanese/English Christian Fellowship (Foursquare Gospel). UPDATE: He is presently in South Korea, and not available at this time for Weddings.

Rev. Bill
Rev. Bill performed Weddings for us especially at Paradise Cove,
Ko Olina Beach, or all the way on the west side in Makaha. He went out of his way to give exceptional service. UPDATE: Rev. Bill is took an extended sabatical from performing Weddings as he battled with cancer. He passed away Feb 3rd, 2011, and we already miss him.
Rev. Ron
UPDATE
Rev. Ron passed away on July 29th, 2012. He will be missed, condolances to his family.
Robert Hamilton began Bridal Dream Wedding Company while serving as Wedding Minister at Primarrie Church. He began performing Weddings in Hawaii in January 1998. (Wedding Officiant License #97-563). Today he depends largely upon Rev. Kimo to perform most of our Wedding ceremonies, as Robert has become the main Photographer at Bridal Dream Hawaii.
See some of Robert's photography at our PHOTO GALLERY.
Our usual Wedding Ministers perform Christian Weddings with a desire to inspire and bless you spiritually. If you prefer a non-religious Ceremony (without any references to God or Jesus), we can find another Officiant for you. Please add $40.00 to your Wedding package if you request a non-religious (civil) Wedding.
*Please note that, according to Hawaii law, all Weddings performed by a Minister or Officiant are considered "Religious" regardless of whether there are references to God or not, and Weddings performed by a Judge are "Civil".


Bridal Dream Wedding Company organizes Weddings in Honolulu, Hawaii on the island of Oahu. You can order Bridal Flowers, Hawaiian Music, Christian Minister, Professional Photography and Limousine Service. Check BridalDreamHawaii.com for Hawaii Wedding Packages.

---
Bridal Dream Hawaii
Honolulu, Hawaii 96815
Office: (808) 924-3600
Cell: (808) 772-1140
bridaldreamhawaii@gmail.com