Please confirm your Wedding Reservation by sending your $100.00 Deposit within a week of making your reservation.
Once your deposit arrives we will send you a receipt and place your Wedding on our CALENDAR.
Please send your Wedding Deposit after you have reserved your flight to Hawaii and are sure you are ready to reserve your Wedding. Wedding deposits are non-refundable.
DEBIT CARD - PAYPAL - VENMO
Please fill out your names, payment amount, and wedding date so we can promptly credit your wedding reservation. Mahalo!


PAYMENT BY PAYPAL
If you have PAYPAL, payments are quick and easy at:
paypal.me/bridaldreamhawaii/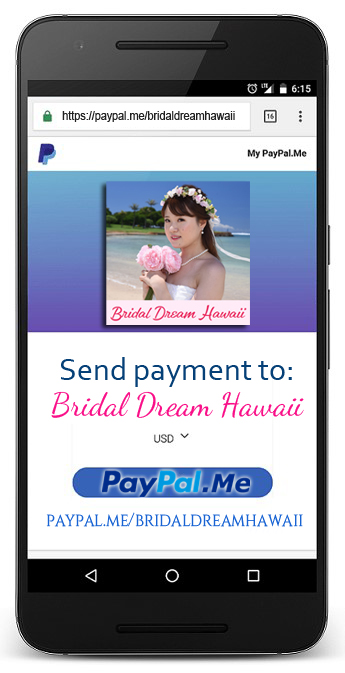 VENMO
Send your payment to Bridal Dream Hawaii by VENMO!
PAYMENT DETAILS
ONE MONTH BEFORE YOUR WEDDING
If you ordered a Wedding package with deluxe flowers over $100 or Dinner tickets, please send another deposit to cover those items one month before your Wedding.
ONE WEEK BEFORE YOUR WEDDING
Please pay your final balance one week before your Wedding.
FINAL PAYMENT:
Beach Weddings on Oahu - Final payment is due 7 days before your Wedding date. For larger Wedding packages (over $1000.00), please pay your final balance one month before your Wedding.
Deluxe Weddings, Maui & Kauai Weddings & Chapel Weddings:
Full payment is due one month before your Wedding.
Any balances unpaid by your Wedding day will be charged to the card we have on file. Please pay your balance due on time to avoid possible rescheduling of your Wedding.
*For Weddings booked less than a month in advance, please authorize the full amount of your Wedding Package.
For our Cancellation policy, please see our Important Details page at: IMPORTANT DETAILS
Please contact us at any time if you have questions about your Wedding Reservation or need to make any changes.
Thank you for the wonderful service you provided us for our wedding.
Your company is very professional and affordable and I appreciate that you were flexible in our needs!
Again, a big Mahalo for marrying us and providing us with a wonderful experience throughout the entire planning process!
George & Jennifer




Bridal Dream Hawaii
Weddings in Honolulu
Office: (808) 924-3600
Cell: (808) 772-1140
bridaldreamhawaii@gmail.com

Please send mail correspondence to:
P.O. Box 23311, Honolulu, HI 96823