All-Inclusive Hawaiian Wedding
by Bridal Dream Hawaii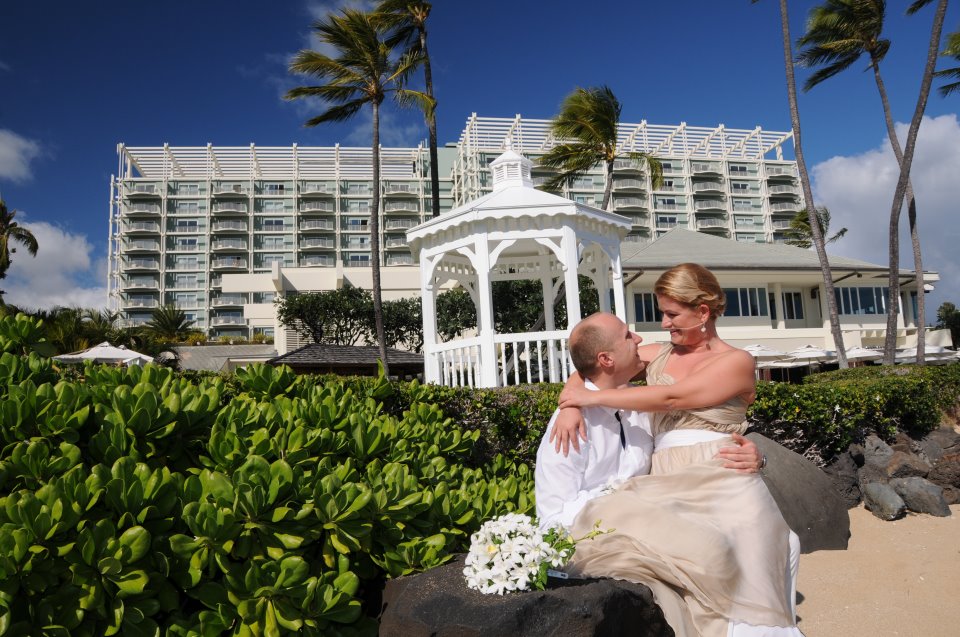 With our all-inclusive Hawaii Wedding Package at Bridal Dream Hawaii, we have your Hawaiian Wedding and Honeymoon covered. This is our most Deluxe Wedding Package including Hotel Accommodations, memorable dinners and entertainment, and a lovely Hawaii Beach Wedding at our most scenic Wedding location Kahala Beach, with great photos and video to share with friends and family back home.

See all of the Wedding services we have included in our All-Inclusive Wedding to make your special day something to remember!

All-Inclusive Hawaii Wedding
5 nights stay at HILTON HAWAIIAN VILLAGE
Bride's Hair Styling & Makeup
Wedding Minister
Ukulele Player
Hand-Tied Tropical Bouquet
(or Bouquet of your Choice)
Photographer
100 Photos
Wedding Video
Limousine Service
Cake & Sparkling Apple Cider
Rose petal Flower Shower
2 Luau Tickets to Paradise Cove
3-Star Dinner Cruise on Star of Honolulu
Framed Wedding Certificate
TOTAL: $5999.00

You are welcome to make changes to this wedding package to suit your wishes. You may see a few items you wish to take out or exchange for other services.

This package includes a Hand-tied Tropical Bouquet or other bouquet of your choice. If you have another bouquet preference please change the bouquet order at least one month before your wedding date as certain flowers may not be available on short notice.

This Wedding package is for Waialae Beach or Magic Island locations. For other wedding locations or transportation from Ko Olina or North Shore, extra Limousine time and travel fees for our staff apply. You may also add extra time with the Photographer and Limousine if you wish to take more photos at other locations.

For larger weddings with chairs & arches we recommend Paradise Cove as the best wedding location. Up to 50 chairs are included and White Columns (roman-style arch) or Bamboo Arbor are available for $399.00. Dinner & entertainment are available there at the Luau for $86 per person.

TESTIMONIALS
Will and I are back home now and we want to thank you again for everything. Our wedding was amazing! We are so excited to see the wedding pictures!!
Jennifer and Will
To reserve the ALL-INCLUSIVE HAWAII WEDDING, visit:
WEDDING RESERVATIONS
*Please send a $100.00 Deposit to confirm your Wedding reservation. We will send an invoice for the hotel portion of this package before reserving your hotel accommodations. The final balance is due one month before your Wedding.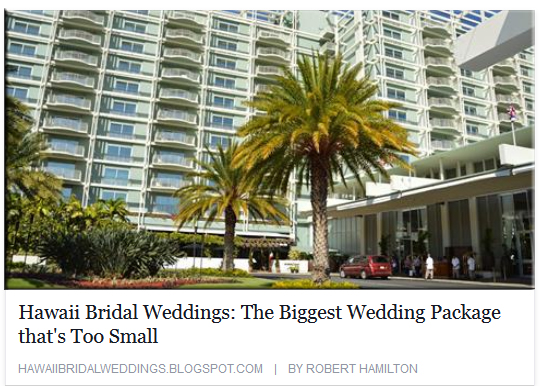 HILTON HAWAIIAN VILLAGE

The Hilton Hawaiian Village is located at the end of Waikiki Beach close to Ala Moana Beach Park and world-famous Ala Moana Shopping Center. 5 nights stay at this hotel is included in this wedding package. Let us know if you wish to add extra nights to the package.
*Sales tax of 4.712% is added to all of our wedding packages and ala carte services.
AIRFARE TO HAWAII
Airfares to Honolulu depend upon where you are flying from and are also seasonal, with the higher fares in summer months during vacation time. Average roundtrip airfare to Hawaii from the U.S. Mainland is about $800 per person. We can give you a travel quote if you let us know your home city and dates of travel. Be sure to also see our TROPICAL HONEYMOON WEDDING with airfare included.
CONTACT US for more details about this package or to make your Hawaii Wedding reservation today.
Bridal Dream Hawaii
Weddings in Honolulu
Office: (808) 924-3600
Cell: (808) 772-1140
bridaldreamhawaii@gmail.com

Please send mail correspondence to:
P.O. Box 23311, Honolulu, Hawaii 96823