Ko Olina Beach Wedding
by Bridal Dream Hawaii

Ko Olina Beach is a secluded beach in Ko Olina by Lanikuhonua Estate, walking distance from the AULANI DISNEY RESORT.

During hotel renovations in Ko Olina we are using Paradise Cove Beach and Lanikuhonua Beach for our Ko Olina weddings.

Lanikuhonua Beach ............................. Paradise Cove Beach

Here is our Beach Wedding Package for the beaches of Ko Olina:

KO OLINA BEACH WEDDING
Wedding Minister
Bride's Deluxe Lei
& Groom's Lei
Photographer
100 Wedding Photos
Souvenir Wedding Certificate
MON-FRI: $599.00 + $28.22 (tax) = $627.22
SAT-SUN: $649.00 + $30.58 (tax) = $679.58

Lanikuhonua Beach is right by Paradise Cove, so we recommend adding a Hawaiian style Dinner and great Polynesian entertainment after your Wedding. You can watch the sunset while you enjoy yourselves at PARADISE COVE LUAU. Dinner Tickets are $88.00 per person, and include transportation back to Waikiki.
You can also add a few of these options:
- Orchid Bouquet $99.00 or Tropical Bouquet $190.00
*(Bouquet delivery to Ko Olina, add $50)
- Wedding Video on DVD - $349.00
- Ukulele Player - $275.00
- Cake & Sparkling Apple Cider $99.00
- Paradise Cove Luau tickets - $88 per person
TRANSPORTATION TO KO OLINA
Ko Olina Beach is walking distance from the JW IHILANI MARRIOTT and AULANI DISNEY RESORT.
If you are staying in Waikiki you can order Limousine service from Waikiki to Ko Olina for $199.00 each way, or MiniVan Transportation is $99.00 each way.
For those attending the Paradise Cove Luau, roundtrip transportation to Ko Olina is included in the Luau ticket price. The Luau Shuttle arrives at Paradise Cove at 5:00pm, so there is enough time to have your Ko Olina Beach Wedding at 5:30pm and return to Paradise Cove in time for dinner.
SUNSET WEDDINGS
Weddings at 5:00pm or later will be charged our weekend & holiday rates.
Oahu sales tax of 4.712% is added to all wedding packages and ala carte wedding services.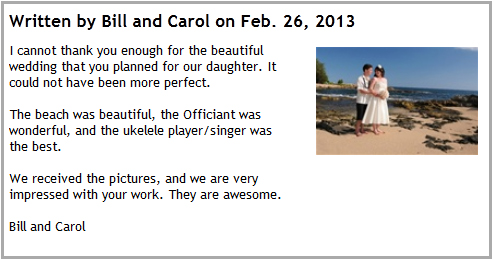 RESORT HOTELS AT KO OLINA
We recommend staying at one of these hotels that are walking distance from Lanikuhonua Beach.

J.W. IHILANI MARRIOTT&reg - AULANI Disney Resort&reg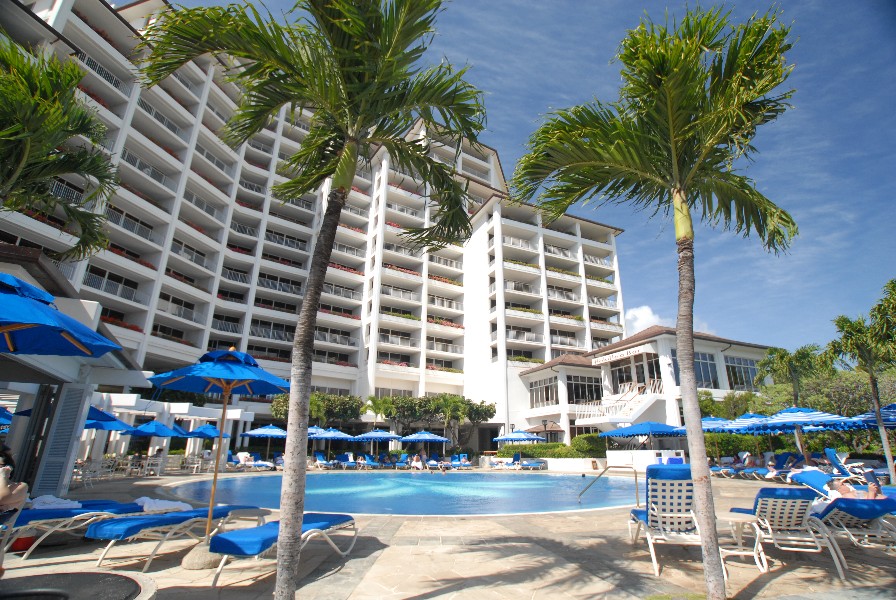 As we pass through hotel property to access Lanikuhonua Beach, we must limit the Wedding guest count to 19 persons. Chairs & Gazebos are not permitted on this beach.
Contact us if you need Photography or other Wedding services at this location.
For Weddings with 20 or more guests, we recommend PARADISE COVE just one block away as the perfect Wedding location, with up to 50 chairs for your guests, and white columns or bamboo arbor available as well.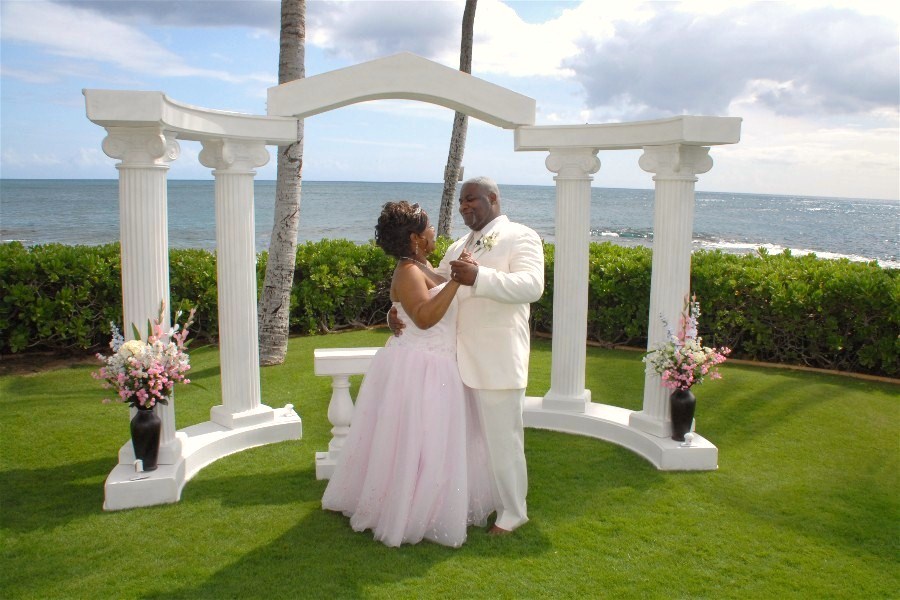 FLOWERS
You may want to add a Bouquet or flower leis to your Wedding Package to add some color to your wedding photos. Let your Bride know how special she is with a lovely flower bouquet!
Orchid Bouquet
(including boutonniere): $99.00
Tropical Bouquet
(including boutonniere): $190.00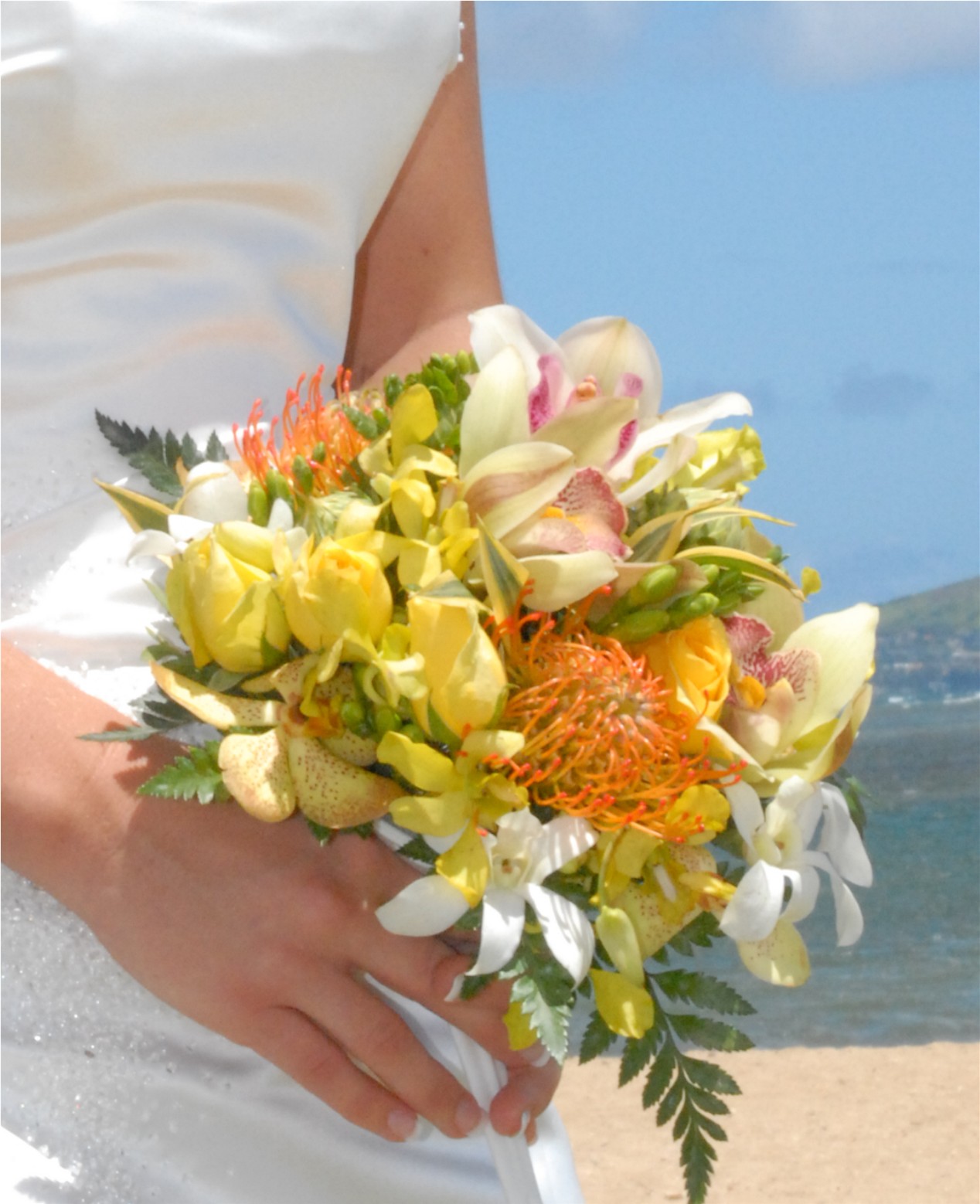 *For Flower Bouquet deliveries to
Ko Olina, please add $50.00.
See more Bouquets and Flower leis at: WEDDING FLOWERS
See any of our Oahu beach wedding locations:
Kahala Beach - Waialae Beach - Waikiki Beach
Waimanalo Beach - Kailua Beach - Lanikai Beach - North Shore

Find recent Wedding Photos and customer comments on our FACEBOOK page.
Email us at bridaldreamhawaii@gmail.com if you have any questions about this Wedding Package, or wish to make any changes or upgrades.
To reserve your Wedding at Ko Olina Beach, please fill out our WEDDING RESERVATION FORM.
Bridal Dream Hawaii
Weddings in Honolulu
Office: (808) 924-3600
Cell: (808) 772-1140
bridaldreamhawaii@gmail.com

Please send mail correspondence to:
P.O. Box 23311, Honolulu, Hawaii 96823