Marriage License Agents
by Bridal Dream Hawaii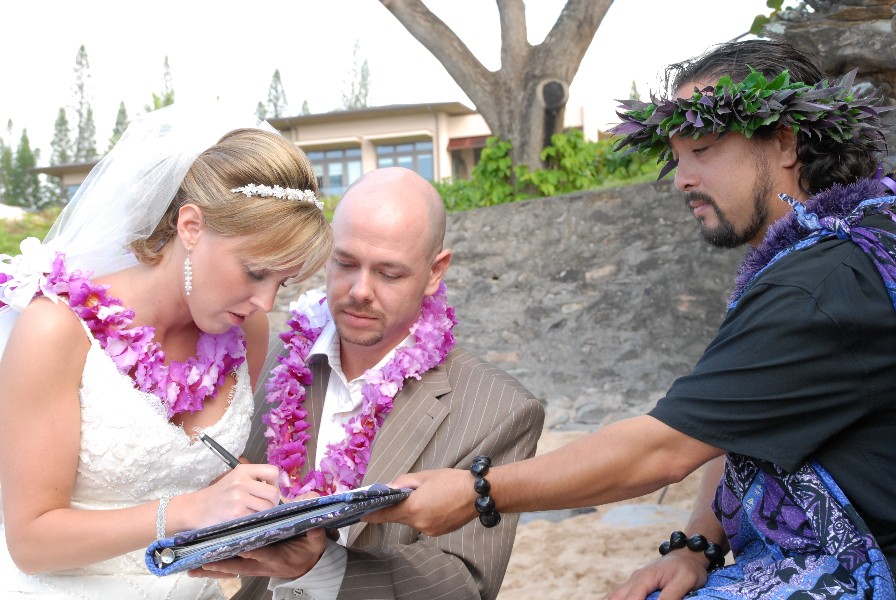 Here is a Marriage License Agent List for the Hawaii Department of Health in Honolulu. You may contact one of these agents to make a Marriage License appointment on weekends and holidays when the MARRIAGE LICENSE OFFICE is closed.

* Allen, Stella
Honolulu Hawaii
808-586-4543


* Brown, Judith
Honolulu Hawaii
808-586-4544

* Dickerson, Cheryl
Honolulu Hawaii
808-931-8349

* Gutzi, Mary
Honolulu Hawaii
808-931-8349

* Kitagawa, Tyler
Honolulu Hawaii
808-586-4544

* Luning, Sherilynn
Honolulu Hawaii
808-586-4544


* Miyamoto, Fusako
Pearl City Hawaii
808-455-1186

* Onaka, Alvin
Honolulu Hawaii
808-586-4600

* Sanders, Kelly
Honolulu Hawaii
808-931-8349

* Takeda, Irene
Honolulu Hawaii
808-586-4544

* Vomvoris, Melissa
Mililani Hawaii
808-738-7590

* Yoshimitsu, Mami
Honolulu Hawaii
808-931-8349
* Your application Locator ID:
A Locator ID (also found on your payment receipt as Authorization Code) is important. This number will be needed to access your temporary Certificate of Marriage. Please note that the temporary certificate is only available to those whose performer enters the ceremony information online. If your performer is online, your temporary certificate will be available after two business days. Check with your license agent for an online performer. Please provide the temporary certificate and the Locator ID (Authorization Code) to each agency that needs to determine that this marriage occurred in the State of Hawaii.

* Proof of age is required.
A certified copy of a birth certificate must be presented for anyone 18 years of age or under. A valid I.D. or driver's license may be presented for anyone 19 years of age or over.

* If previously married, proof of original divorce decree or death certificate needs to be presented to the marriage agent by the applicant if the divorce or death was final within 30 days of applying for a marriage license.

* The marriage license expires 30 days from and including the date of issuance, after which it automatically becomes null and void.
For MARRIAGE LICENSE information, see:
HAWAII MARRIAGE LICENSE
HAWAII WEDDING OFFICIANTS

FUN ACTIVITIES on OAHU

Bridal Dream Wedding Company
Honolulu, Hawaii 96822
Office: (808) 924-3600
Cell: (808) 772-1140
email@bridaldreamhawaii.com