Beach Wedding & Dinner Cruise
Bridal Dream Hawaii
Enjoy a 3-Star Sunset Dinner Cruise aboard the
Star of Honolulu and a Wedding on the Beach:
Introducing our "Beach Wedding & Dinner Cruise" package at Bridal Dream Hawaii.
3-Star Wedding Package
Wedding Minister
Orchid Bouquet
Photographer
70-90 Photos on CD
4x6 Photo Prints
Limousine Service
Dinner for Two on board the
STAR OF HONOLULU
Framed Wedding Certificate
1-Star Package: $999.00
3-Star Package: $1079.00
5-Star Package: $1279.00
Weddings are held at the scenic Kahala Beach (or at Magic Island, upon request) at 1:00pm. There is a couple hours' break after your Beach Wedding, before your 4:30pm pick up time for a fabulous dinner aboard the Star of Honolulu Sunset Dinner Cruise.
*If you prefer a sunset Wedding, you may use your Cruise tickets on the following day.
The difference between 1-Star, 3-Star, and 5-Star is in which dining room you will dine aboard the ship (lower floor, middle floor, or top floor exclusive section). Menus are different as well, though fine dining on every floor.
Tour bus transportation is included for 1-Star & 3-Star Wedding package, and
Limousine service for 5-Star Wedding Package.
Limousine service is from Waikiki. Extra Limousine charges apply if you are staying at
Ko Olina or North Shore Oahu.
Please add $100.00 to this Wedding Package for Weekends and Holidays.
Guests are welcome to join you on the Dinner Cruise. See ticket prices below: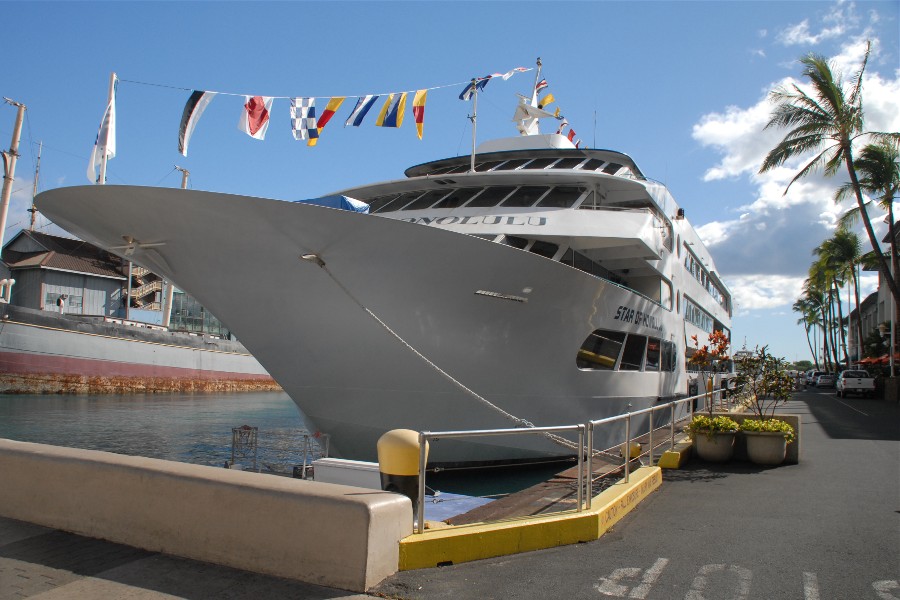 Star of Honolulu - DINNER CRUISE TICKETS:
- 1 Star Dinner Cruise (Steak & Crab): 1 FL Seating
$88/Adult, $53/Child
*Add $10 for Tour Bus shuttle, roundtrip transportation from Waikiki to the Dinner Cruise.
- 3 Star Dinner Cruise (Steak & Lobster): 2 FL Seating
$128/Adult, $77/Child
*Add $10 for Tour Bus shuttle, roundtrip transportation from Waikiki to the Dinner Cruise.
- 5 Star Dinner Cruise: 3 FL Seating
$172.00 per person
(Five-Star Guests have a 7-Course French Dinner, Exclusive seating on top floor.)
*Add roundtrip Limousine Transportation for $60/person.
*There is no child-rate for 5-Star. This package is recommended for adults, however children may also attend at the adult rate. Fussy children will be requested to exit the 5-Star dining room and remain on the Observation Deck until ready to return to the dining area.
Celebration Package upgrade - ($19.00 per person)
Includes private window table, photo in Star of Honolulu frame
Tour Bus Shuttles pick up from Hilton Hawaiian Village, Sheraton Waikiki, Hyatt Regency, or Aston Waikiki Beach Hotel.
*RATE INCREASES:
STAR OF HONOLULU charges extra for special days such as VALENTINE'S DAY and 4th of JULY. These extra charges (or any other rate increases by the Cruise Ship) will be passed on to the customer.
Specially Featured Weddings by the Day:
Sunday Monday Tuesday Wednesday Thursday Friday Saturday
MORE ACTIVITIES
See more OAHU ACTIVITIES, including Atlantis Submarine, Whale Watching, Dolphin Encounters, Shark tours, Watersports, and much more.
read more...
---

Bridal Dream Wedding Company
1350 Kinau St.
Honolulu, HI 96814
Office: (808)924-3600
Cell: (808)772-1140, Fax: (808)356-0806
email@bridaldreamhawaii.com
OFFICE HOURS:
MON-SAT 9:00am - 2:00pm